Would you like to consistently achieve ideally fitting abutments? Would you like to have easier retrieval access? How about, avoiding permanent cementation, thereby reducing incidence of peri-implantitis?
If you answered yes to the above questions, then screw retained abutments are probably the solution you are looking for. It is well established that screw-retained systems are ideal for achieving predictable retention while allowing the clinician to preserve retrieval access and simultaneously avoid the risks and drawbacks associated with permanent cementation.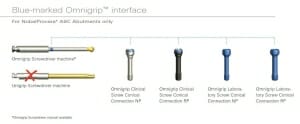 Unfortunately, it hasn't always been possible to opt for a screw retained system in certain areas, due to lack of access or lack of flexibility in implant or abutment placement.
In the anterior where space is limited, for example, you might end up with the access hole positioned on the incisal edge, or even the labial aspect. Conversely, in the posterior, you may not find the necessary room to place a retention screw in patients with a limited opening.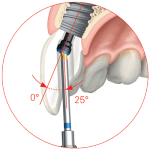 That is why Russellville Dental Lab is pleased to offer you the option using Angled Screw Chanel (ASC) Abutments from Nobel Biocare. We are proficient in many implant systems, but this one is especially useful in areas where space and placement angulations are limited. This unique system has essentially made the angulation of the final retaining screw a secondary consideration because you can designate the screw access-hole position and the screw angulation anywhere between 0° and 25° in a 360° radius.
The advantage to you as the clinician is that it maximizes your ability to pursue ideal implant placement and abutment design options, without having to give special consideration to the retention screw.
If you opt for ASC Abutments from Nobel Biocare, Russellville Dental Lab has the expertise to provide full support – helping you achieve ideal clinical and aesthetic results every time!